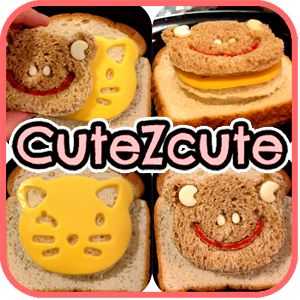 I have seen the bento box excitement over the last year or two but I have not participated in that…until now…partly. I was approached by CuteZcute to review their product. They said this product was launched just a few months ago. When I went to their website I KNEW my Little Chefs would fall in love with this product immediately and I was right! I have spent more time creating with my youngest two Little Chefs who are not in school. Little Chef D thinks she is a master at making her own designs. She has been the one to teach her sisters and loved every moment of it.
Weekends are usually hectic for us, but amazingly this day we were not incredibly busy so we could create. Each Little Chef decided which type of sandwich they wanted to make and I let them go. They did it all. They got everything out (yes they did put everything away as well!), they chose their animal, spread, cut, stamped, decorated and had a great time.
I know after making these sandwiches for a while that my youngest Little Chef will amazingly eat a meat and cheese sandwich if it is shaped like an animal SO much better then just folded over. She is a picky eater or should I say she just doesn't want to eat. Little Chef D loves the result because she gets to play with her food. Little Chef A tried creating her kitty face with jam. We decided we need a much narrower knife to stay within the lines.
How easy are these to use? They do not have sharp edges, which I love for safety reasons, but it is easy to learn to press and twist to cut through bread, meat and cheese. While the Little Chefs had a great time with these we did not get into the complex decorating. My Little Chefs do not have the attention span for that. It was great to make their sandwich then hurry and eat it before the bread starts to dry out. I can see how fun they would be for sugar cookies. But again, unless my Little Chefs are only placing candy for the eyes, nose, and mouth they do not all have the fine motor skills to carefully paint on the icing or whatever we choose. If your Little Chefs are ok with their less then perfect results like mine were these are great. If they are perfectionists and a little lacking in the fine motor area these might frustrate them a bit.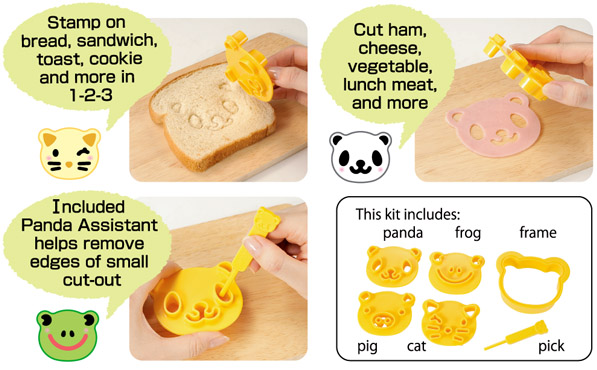 We have had a great time creating and eating the results. I get requests at least twice a week to make a sandwich animal for Little Chef D. Lucky for us CuteZcute is giving away a set to one of our great readers! I know your Little Chefs will love this just as much as mine do. Good luck!